…og af hverju?
It's easy to tell you why. The Icelandic music scene offers a tremendous amount of stunningly talented bands of all music genres. However in most cases they are barely known outside of the island, and therefore also in Germany. Everyone knows Björk. Of Monsters and Men, Sigur Rós or GusGus are also widely familiar. But have you ever heard of Agent Fresco? Hjaltalín? Vök? If so then you're already one of those being more concerned about Icelandic music! What about Mr. Silla? Prins Póló? Mugison? If you're now giving up – don't worry. That's nothing to be ashamed of but it is something we would certainly like to change!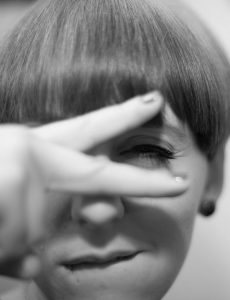 Steffi
In the very beginning Steffi loved to listen to "Benjamin Blümchen" tapes. Later she was a big fan of 90´s music. There followed a wild journey trough all music genres. In the end, she stopped at independent music & electronic music. Since almost three years Steffi lives in Berlin and studies music management. The thing she most enjoys is organizing events. She already visited a lot of events and festivals in her life. From all Festivals – Iceland Airwaves 2015 she loved the most. There is an incomparable passion of how Icelandic Artists play their music. It´s authentic and unique. The rest of the world needs to know about this too. So let´s start with Germany: tonlist.de. Steffi works hard and passionately as soon as she gets obsessed with a project. Tonlist.de is a "project of the heart" (Herzensprojekt is kind of German thing we used to say) and a welcome distraction between studies and the daily job. If Steffi has a grumpy day, she definitely listens to Vaginaboys album "Icelandick". These guys have made an impression on her at Iceland Airwaves. But there is a lot more to discover so don´t forget to check out "On Air" on our website. Steffi is looking forward to hear from you.
Steffi is listening to...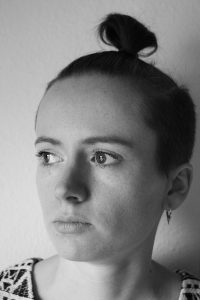 Silja
To be honest, Silja became aware of Iceland by accident. Never in her life did she think she would be so smitten by the country and its music after only 3 months of work and travel. But she was and still is. In her youth she listened to many different types of music, which now reflects in her current taste. No wonder she took such a liking to the icelandic music scene. Icelandic bands are hard to put into boxes and tend to not stick to just one genre, but to create their very own and that's the appeal right there. The range of talented musicians in Iceland is impressive and should be discovered and be known. Silja first came into contact with Ásgeir Trausti's album "Dýrð í dauðaþögn". This was followed by many more and after several concerts in Germany it was clear she had to visit "Iceland Airwaves 2015". Well, she did and never regretted it. Since then the number of icelandic bands she listens to has doubled, her CD collection gets bigger and bigger, and better not start on all the concerts she visits…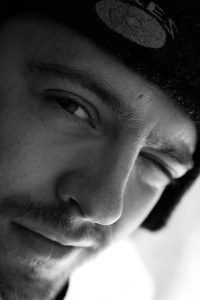 Philip
A dozen trips to Iceland are proof of complete and uncurable addiction. It was first hiking in the highlands and taking photographs of Iceland's scenic landscapes that raised Philip's fascination about Iceland. The awareness of the country's vibrating music scene was aroused by some concerts in Germany but really took off in advance of his first Iceland Airwaves visit 2014. It was breathtaking to discover so many great and versatile bands coming from a country with only about 320.000 inhabitants in such a short time. There's just everything between experimental electronic and kick ass desert rock and some bands you simply can't describe. And things took their course: Airwaves14 was a heck of a festival, tickets for the following year were bought 11 months in advance and Airwaves15 even exceeded its predecessor. As a result, the idea of a blog about Icelandic music came to mind together with Steffi. And here it is – tónlist.de! As a geographer, Philip does not have a distinct educational or vocational background in music. But one might think he is a maniac when it comes to visit concerts which is the case almost once a week on average.
Philip is listening to...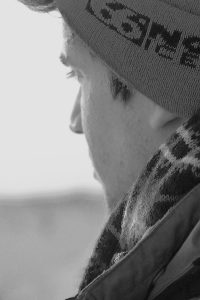 Sebastian
The first contact between Sebastian and Icelandic music was a record store gig of Svavar Knútur. 6 months later, before starting his studies to become an Environmental Engineer, he consequently went on his first trip to Iceland in 2012 to take part in two workcamps in the North and in the Westfjords of the island. However, the trip changed quite a lot. Since then, the country, the people and their music never left him anymore. Logical effect was to spend his practical semester 2014 in Iceland as well. The focus of the anticipation was lying on the Airwaves 2014 festival already during the planning phase. The large number of all kinds of unique genres and the of Icelandic bands and musicians that he could experience during this festival definitely made it a highlight during his stay. All the musical discoveries still fascinate him. Not only to urge his friends with Icelandic music, he decided to live out his enthusiasm for music on tónlist.de. Generally, Sebastian is mostly interested in music from the genres indie / punk / electro / post-rock and is regularly visiting concerts at home and abroad. Among others his Icelandic favourites are For A Minor Reflection, Kiasmos, Sigur Rós, Agent Fresco, Dikta, VAR and Oyama. He currently lives close to Nuremberg and is planning another semester abroad. This time however in Finland.
Therefore, we hope to be able to infect you with their sometimes childlike, sometimes maybe slightly hysteric but all the time huge enthusiasm about Icelandic music and artists. Like Berndsen. AmabAdamA. Vio. Sykur. Brain Police. The Vintage Caravan. TRPTYCH. For a Minor Reflection. Reykjavikurdætur. Dikta. æla. CeaseTone…there will be something to suit everyone's taste!