It is quite rare that Icelandic artists or bands show up close to my home in Upper Franconia which is admittedly rather off the beaten track when it comes to concerts. But in case the exception arises and it's even a musical tidbit like songwirter Svavar Knútur from Reykjavík who is currently touring Europe with his latest album "Brot", it's not a question to travel the few kilometers to Hof. With regard to the venue, a small bar called Biersalon Trompeter, Svavar is not a stanger at all as he made his last occurrence there last year in may. Thus, he emphasizes a few times how much he likes it here and how tasty the beer is during the three hours (!) he splendidly entertains the audience including a half an hour break.
And entertaining is not only to be understood in a musically way: Svavar is very well known for his exuberant and humorous story telling during his performances. Sometimes subtle, sometimes just straight ahead regardless of etiquette or sensitive minds. But always uproariously funny, full of passion and therefore simply sympathetic. Iceland is famous for being the land of trolls and elves and Svavar unites both on stage as he states himself. He tells his stories and announcements fervently like a troll, with a bizarrly twisted voice. When he's talking about a walk on a beach in Iceland with swirling waves and squealing sea gulls you just feel like being right there – until the walk comes to an end with an encounter with a bloated drowned body. On the other hand, his music sounds and feels elvish in many cases and turns the evening in the same up and down of feelings and moods that also are distinctive of his new album.
And Svavar endows the audience with some admirable interpretations from this record, like of the song "Ulfar" about his son, whose digestion is now known to the crowd in Hof. Or with "Girl from Vancouver" which was not the only song the people were singing along the lyrics or at least the uh's and ah's of the background vocals. And if help was needed, Svavar just quickly announced the next line when he was not singing himself right at the moment so that everyone was able to join in. But also songs from older records were performed, amongst others one of the most beautiful songs by Svavar, the melancholic hommage to travelling, "Wanderlust". The utmost number of listeners was amazed by Svavars charism, his humour and his simply overwhelming voice and presence on stage. Regretfully however, though it's barley worth it to lose words on it, there's one thing I'm obliged to mention: To all of you who think of yourself as being more important than anyone around you (and especially the artist) by talking at the noise level of a railway main station: take your ego and meaningless chatting out the door together with yourself. That's a question of respect and decency towards other people and the performing ones. You're redundant. Leave. Thank you.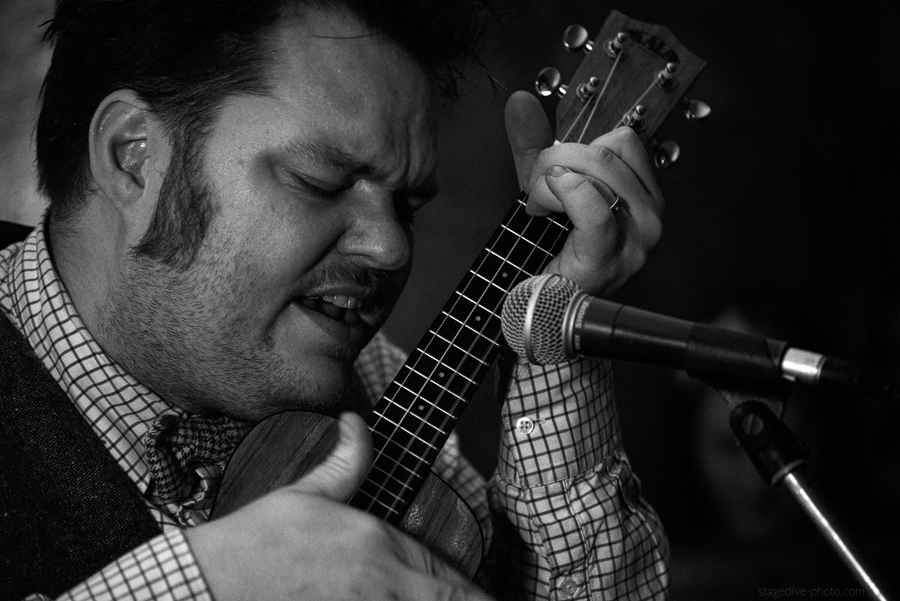 Luckily, Svavar is strong and resilient enough to withstand the circumstances and adds another half of a whole concert as encore at the end of a remarkable evening. Svavar, thank you so much and see you soon hopefully!