Winter is still around. Fortunately, the post-rock band VAR can offer the perfect soundtrack for this time of the year. Their new album called Vetur (=Icelandic for winter) was just released in Japan in December and will soon be available also via Spotify and iTunes.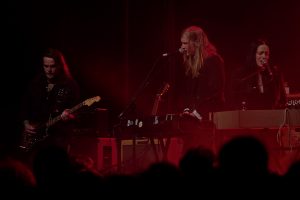 Piano, spherical guitars, increasing drums and the head voice of singer Júlíus – the sound of VAR is definitely not far from the "big brother" Sigur Rós, especially compared with their older material. But nevertheless, VAR are still creating their own sound and with them, probably a new Icelandic post-rock band is rising.
VAR is now a quintet that started first with Júlíus Óttar Björgvinsson (maybe known from Low Roar) and Myrra Rós Þrastardóttir (known from her solo project) and was then completed by Egill Björgvinsson, Arnór Jónasson and the For a minor reflection drummer Andri Freyr Þorgeirsson.
Luckily, Júlíus was answering us some questions about the new VAR album, which trailer you can check out here:
First of all Júlíus, for people who have never heard of VAR before, how would yourself describe your music by three words?
Honest, simple and energetic.
I discovered your music at Iceland Airwaves 2014. It was at the end of the festival, I had some time to the next band that I wanted to see left, so I just dropped by in Bar 11. And I was right away delighted. The sound immediately reminded me of Sigur Rós, tough in the small but stuffed bar with the comfortable ambience, it was a much more intimate atmosphere than at huge Sigur Rós concerts. After all, it made it to one of my favorite shows of the festival and I really regretted not have seen some more of your previous shows during the festival.
Some months ago at that time, in August 2014, you released an EP. What were you been doing as a band in the meantime?
We have been writing new songs that we have been working on, playing them live, working on them some more, until we had some material to record for the album Vetur that was just released as a special Japanese release. That album includes our old EP, remastered, four new songs that we have yet not released, plus two released online a bit before.
In December 2016, your new album was released in Japan. How did it come that it was released on a Japanese label?
The head guy from the Japanese label Rimeout Recordings just contacted us. He heard our song "Á kaf" by accident on Youtube and sent us an email asking if we wanted to release a special Japanese album with him. We thought that was just great.
When will people from Europe get the chance to listen to your new songs? I read that it will be soon released on iTunes and Spotify?
Yes we will release it on iTunes and Spotify really soon. Hopefully in February. We are just figuring out a good date and a release concert in Iceland to go with it.
Is a CD or vinyl version also planned for Europe? Or people just need to order it from Japan or come and get one at your shows?
We'd love to. But our budget doesn't allow it as of now. But we hope for a vinyl release. That would be amazing to be able to do. Our plan, as of now, is just digital releases. But there are a few places you can order from in Japan, if you want to get this special release. I think the best way is to email Rimeout Recordings about that. He only made CD's though. So the vinyl will wait. We will soon have a few CD's to sell on shows sent from Japan. So yeah, at our shows soon.
Your album cover shows an icy waterfall and the album itself is called Vetur (=Icelandic for winter). For what reason? Have you written or recorded the album in wintertime, are the lyrics dealing with winter themes or you just discovered that the songs are creating a winter atmosphere?
Well, we were very lucky to know a German man, Jürgen Waffenschmidt, that spent a lot of time photographing Icelandic nature. When we were thinking about a cover we asked him if we could check out his work for some cover artwork. He let us use his work and we picked that one as we felt it suited the music in a way. And the first song on the CD "Back home" used to have the working title "Vetur", so we just decided to call it that. Simple.
I guess most of your international listeners cannot understand your Icelandic lyrics. What are your lyrics in general about?
Memories. Random stuff. Fun fact: I am not very good in English. For an example: Myrra is writing this interview for me, as she is "slightly" better at it. But just "slightly", haha. Sometimes the lyrics just come to me or I babble something and Myrra writes down something she "thinks" I am singing and we go from there. I work with the sound of the voice while writing vocal lines and then we work the lyrics sometimes after.

How important are lyrics for your band? Could it also happen that you will just make instrumental songs one day?

Of course, lyrics are always important. I think it would be really sad, to make lyrics that don't matter to you or have no special meaning. But its a funny question, because our newest song we are working on, is really instrumental. And we are actually thinking of keeping it that way.

Are you planning any shows around Europe or especially in Germany in the closer future?
It would be really nice to go around Europe and do some shows but we will see how the future goes. At least we are ready for that.

And last question: Please, can you pick three (Icelandic) interprets, albums or songs that you like the most at the moment?
Wow that's a hard question. They are so many. But just to say something, Myrra found this great old album that she bought for me in a second-hand market. It's an album I wanted to have for sometime and it was in mint condition. It is with a guy called Stefán Íslandi, an opera singer who worked for years at the Royal Opera in Copenhagen. And this album also includes beautiful choir parts and that's something I really like.

Thank you for the interview, Júlíus!
If you want to hear more from VAR now, here is their latest EP from bandcamp. We will also let you know, when the streaming of the new album is available!