The first time the electronic r'n'b and trap experiment GANGLY came into sight was in 2014, when their single "Fuck with Somone Else" was published. At that time, it was not yet clear which known artists were standing behind that project, because GANGLY sent out the song anonymously. It couldn't been kept as a secret for a long time until it was clear that the musicians Sindri Már Sigfússon (known  from Sin Fang), Jófríður Ákadóttir (known as JFDR and part of Samaris or Pascal Pinon) and Úlfur Alexander Einarsson (guitarist in Oyama) are forming the group.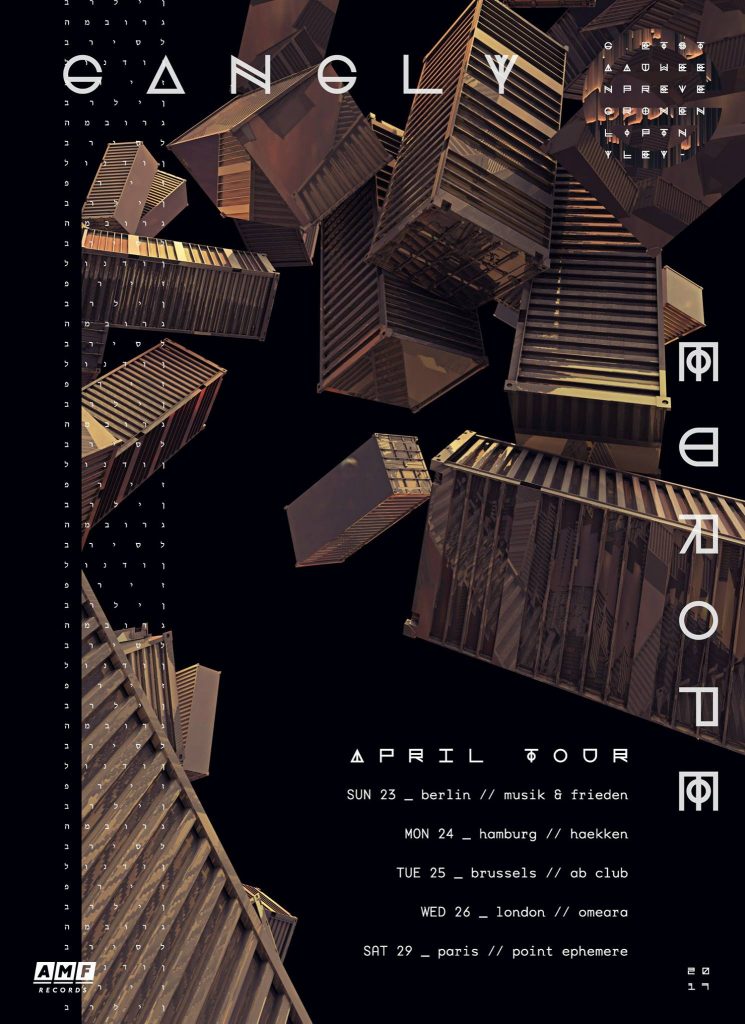 Darkly tempered voices and sluggish beats – the unique glassy and dramatic style of  their electronic experiment was already attracting a lot of attention. Until now, four singles were released, though no signs of an album yet. Each single was underlined by videos with fantastic abstract animations, that definately must been seen.
The next days, their first small tour around Europe is coming up! Just a few big cities, but also Germany is on the list. Unfortunately the concert in Hamburg got cancelled due to "unforeseen logistic reason" by FKP, however there is still the chance to see GANGLY in Berlin on 23rd of April here!
We got the chance to ask GANGLY some questions about the upcoming tour and their music:
Your first Europe tour is just about to start. What are your expectations for the tour? Are you nervous after so many compliments for your pre-released songs?

We're going to be bringing an internet project in a live format to all the fans that we've gathered since the release of the first single 'Fuck With Someone Else'. We're hoping the live experience will bring a new aspect out of the project and a new context.
What can the people in Berlin and the other European cities expect at the concerts? Are you going to play a lot of new unheard material?
We've made a special set for this particular tour, bringing our current songs together with some specially made, new material that could become new songs at a later point. There are a few songs in the set that are unreleased and mostly unheard.
Some weeks ago, you released a new song called "Whole again". That is the fourth one you provided online. This one is so far my favorite one and maybe the most positive one, based on the lyrics. Which of the four songs means you the most or turned out to be the best in your opinion?
We love all our songs equally and feel that with each new song it shows a new side to the project, slowly revealing it in its entirety. Just as each video showcases something different in the Gangly visual aesthetic.
The last three songs always had a gap of quite exactly three months. So, we can look forward to June? 😉
Yes, definitely a new video before August.
Each one of your songs was underlined by wonderful abstract video animations. In my opinion, they all express the dark and glassy mood of the songs pretty well. The key role plays always a bronze-colored naked human body that is moving in an abstract environment. Has this a deeper background and who do we have to thank for the video art?

Mani from Undir Studios helped us to bring out the visual aesthetic that we wanted to communicate. Each video is worked on irrespective of a greater narrative as want to present new visual ideas with each video all tied together by the Gangly aesethtic, like new parts of a larger universe.
Will the animations also be part of the shows in Europe as they were for example at shows during the Iceland Airwaves?
We want to bring something new to the live shows in the form of keeping the shows dark and minimal with some lighting.
This and the last year you all have been very busy with other projects. I just heart a new song of Úlfur's band Oyama, Sindri released his new Sin Fang album "Spaceland" last year and Jófríður released her debut album "Brazil" under the name JFDR in March, after albums with Samaris and Pascal Pinon last year.
How do you still find time for GANGLY when you have so many other projects going on at the same time? And how did you come up with the idea to start a group in this formation?

It is all very organic, we came together to collaborate as we've known each other for quite a long time and it just happened. We find time to work on the music because it is so organic and don't need a huge amount of time in the studio together.
Was the busy period in between a reason why it took so long between the first song "Fuck with someone else" in 2014 to the latest ones now?
We wanted to take some time to look over all our material as a whole and work towards a greater idea, the release of multiple, video led singles and whatever comes after.
So will this year be the year of GANGLY then? I guess many people are waiting for the announcement of an album or at least of an EP… Are more (festival?) shows around Europe following?
Yes, there will be announcements in the future.
Thank you for your answers, and enjoy now the following concerts!
For the end: If you want to listen to some songs that might have influenced
GANGLY
: they created a spotify playlist in January, that you can find below. Otherwise, make it to the
concert in Berlin
and get your own impressions! 🙂