Emmsjé Gautis 3rd album "Vagg & velta" was released after 3 long years of waiting. With his great hit "Strákarnir", Gauti set a new milestone last year and one could be pretty sure, that his next record would possibly be a big one. A little preview were the releases of "Ómar Ragnarsson" and "Djammæli".

My expectations were high and after the first time listening to the album, those expectations were even surpassed. Every song has the potential to be stuck in ones head all day long. After only 2 or 3 times of listening to the whole album, I already could sing all refrains and I absolutly can't choose a favorite. No chance! From classical rap-vibes, to classic violins over pop and cool collaborations (Úlfur Úlfur, Aron Can, Unnsteinn,…) – you have to expect everything with this record.
Shortly after the release date, Gauti took the time to answer some questions about "Vagg & velta" for tónlist.de.
Your new record "Vagg & velta" is out now. How long did the recording process take?
It took about 3 years to make it. I released my second album in november 2013 and shortly after that I started working on a mixtape. The mixtape was growing bigger by each song that I liked and in the end i decided to work harder to make the songs better and do another album. Vagg & Velta is the outcome of that.
What does the album title mean and why did you choose it?

It is the Icelandic translation of rock n roll. Logi Pedro from Retro Stefson has a tattoo that says vagg&velta and I got the same tattoo as him one night of partying. We became the vagg&velta crew. Time passed and slowly the name got stuck on a song and shortly after that I decided to use it as my album name.
The artwork of the album is kinda special. Even though it's called "Vagg & velta" you find the lyrics of Strákarnir printed on the front. The photos on the cover and in the booklet are also from the Strákarnir video – why did you choose that? Is this song special to you?

I went threw [through] many ideas with many artists before it finally got right. It was originally an idea from the director of the "strákarnir" video to use the photo from the video on some artwork. I sent the photos to Bobby Breiðholt who made the artwork and he sent me some ideas later that day. I liked what I saw and he took the wheel after that. The "strákarnir" video/song means a lot for [to] me. It is my biggest single so far, its the song where I found a new style for my raps, I love the video and it includes a lot of my good friends. Im a big [fan] of Bobby Breiðholt and Im really happy with the artwork.
What are the main themes of the album? Where did you find inspiration?

I dont think there are any special themes on the album. I always rap in first person so the lyrics I write is [are] something that I have seen or lived. My life is my inspiration of writing lyrics.
You had a release party. How did the crowd react to the new tracks?

My release party was pretty crazy. I decided to have the stage in the middle of the room so I kind of had 4 stages to perform on. I had a band with me. Drummer, guitarist and bassist from Agent Fresco and than I had 2 DJs. The tech crew was on point and this was one of the best nights of my life. People knew almost every word even though I only released it a week before the concert.
What do you think about people liking your music who don't or barely understand Icelandic? I mean, it's rap music. Normally one would think the lyrics are very important.

I'm always pretty stoked when a non-icelandic speaking person listen [listens] to my raps. Of course rap is a lot about the lyrics but its so much more than that. I for example listen to some Swedish and french rap even though I dont understand a word. Its something about the rhythm and feel that gets me. Nothing should be important in music. If it makes u feel good or if it brings out some emotions, than something is right.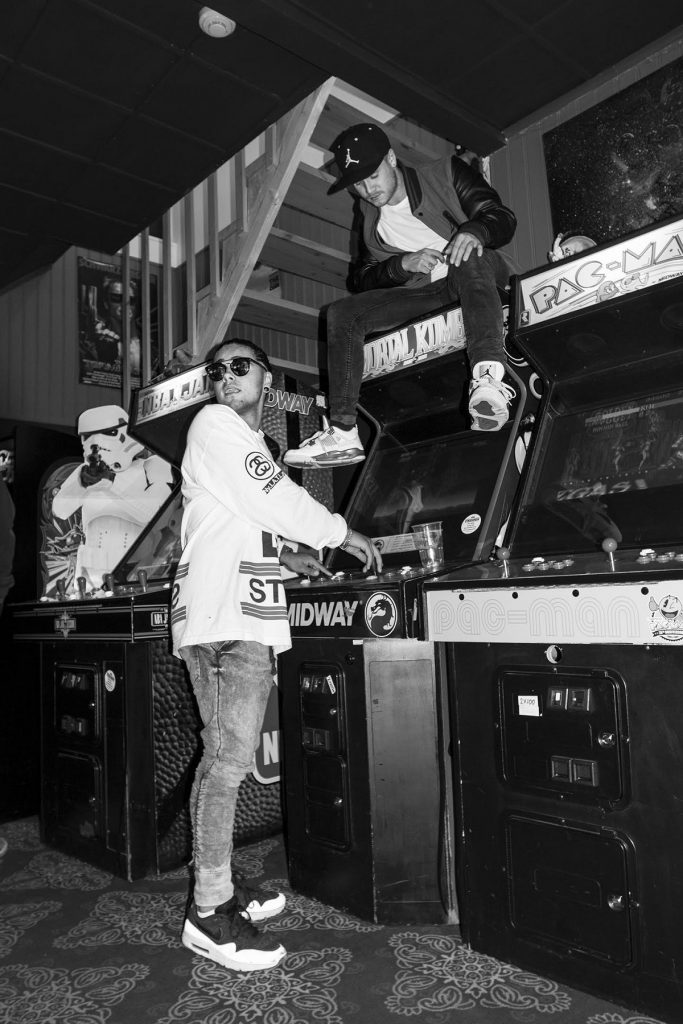 Thanks again to Emmsjé Gauti for taking the time to answer some questions for tónlist.de.