It's that time of the year again, and we're so pumped for it. Probably the most intense party in Iceland is ahead of us once more: Eistnaflug returns to Neskaupstaður from July 5th to 8th and we will of course also do so! Their website tells us that this means only 1 month, 2 days, 13h and 37min of waiting from now. And as the line up has filled up meanwhile, it's definitely time to have a closer look, check out obvious and hidden gems and get yourself in the right mood!


It's a like a beautiful black bubble full of metal you're living in during those four days as soon as you have entered the remote Norðfjörður through that funny tunnel:
Build up your tent at the end of the village above the sea and get your wristband.
Hit the stage.
Bang your head through a night that never gets dark.
Go to bed between 5 to 7 a.m.
Get up to grab some food and beer right before you return to the venues.
Repeat 2-5 three times.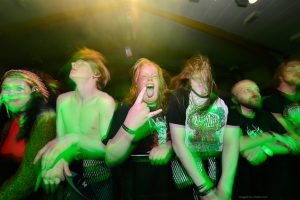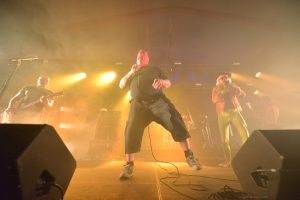 Perfect, eh? It's not night and day which defines your daily routine but the festival's timetable. Though the latter has not been finally revealed, there are some bands you truly should check out (if you don't know them anyway but also if you do so) and hope that there are no time conflicts with all the other ones you'd like to see that are not less amazing. As usual, there are international top acts like US boys The Dillinger Escape Plan (on their final tour by the way) and Neurosis or Swedish veterans Bloodbath. But we're here for the locals at tónlist.de as you probably know, and they won't splash out on the internationals, you bet! Sólstafir e.g. just released a new record, succeeding their groundshaking masterpiece Ótta (2014) and we're extremely excited for the new songs and their fabulous live show. Iconic Dr. Spock and HAM will also be part of the pack again and truly will kick ass once more. And to witness a legend in Icelandic music like Mugison live is always mandatory. But there are some others we'd like to point out this year, and to start with, there's
Brain Police
Iceland's #1 act if you have that thatch for banging your head! While there's a huge pool of established and emerging black/death metal bands in Iceland (just think about Svartidauði, Misþyrming or Zhrine just to name a few), the classical stoner rock division is rather small. In fact, most bands you could consider as being at least partly stoner rock bands are rather hybrids from other directions, mostly blues rock, like The Vintage Caravan or Ottoman. One of the most promising ones, Churchhouse Creepers, have been shocked a few weeks ago by the overwhelming tragedy of the death of their lead singer Bjarni. Farewell, Lizard Boy, we love you! Of course you gotta count Oni, too, and we'll talk about them later. But if there's THE prototype of Icelandic traditional, old-school stoner rock, it's definitely Brain Police. There are heavy riffs, lowered guitars, dirty drumming and amazing vocals by singer Jens Ólafsson. The guys are a top notch live band and we advice you to take a sniff of Jacuzzi Suzy.
Auðn
If you don't like bright nights and days you're fucked in an Icelandic July. If you like it dark, you should return in January, but on the downside, there's no winter edition of Eistnaflug then. So you gotta help yourself out with some appropriate tunes. And the five headed black metalers of Hveragerði based Auðn could be your perfect choice. It's not that kind of hardcore black metal you'll get from bands like Angist. It's some kind of ambient, slightly calmer black metal – funny description somehow. But it's cold, desolate, harsh and very atmospheric. It's not by chance therefore that Auðn is on the rise, also outside of Iceland, during the past months. They played Roadburn Festival this year and will also have an appearance at Roskilde. And at Eistnaflug, fortunately!
Dynfari
Concept albums are great. It lifts the whole thing to another level if there is a story or a distinct red line behind an album. Undoubtly the cooltest concept album from all the bands at Eistnaflug this time is the 2017 release "The four doors of mind" by atmospheric black metal group Dynfari. Based on a section in fantasy writer Patrick Rothfuss' novel "The name of the wind", there a four doors a human mind can stride through in order to deal with pain that it has suffered: sleep, forgetting, madness and death. Those topics are entangled with thoughts of Icelandic existentialist poet Jóhann Sigurjónsson (in Icelandic of course) and enclosed by a bloodcurling and eerly beautiful mixture of post rock and black metal  so you sequentially get sucked deeper down the inevitable disclosure decay of the broken mind. Does it get any more metal like than this? No.
Future Figment
I think it was Forrest Gump who said "Progressive rock is like a box of chocolate. You never know, which hook comes next." And because we love surprise, we love progressive rock. And that's why we love Future Figment. The four dudes from Reykjavík and Hveragerði (the second Hveragerði band in our picks, something's going on there!) came up just last year with their debut album "Qualm". In German, this word means something like "thick smoke". And your amps will smoke from the pure pressure of Future Figments badass progressive metal. Except of the opener and an interlude, there's no song shorter than five minutes, with most of them exceeding six. Nice. Sophisticated songwriting is a must have in prog rock and those guys know how to do it right. "Crown the sun" for example is a masterpiece of complexity and ingenuity. Could easily be the most interesting discovery at this year's festival!
Oni
No surprise, Eistnaflug is naturally full of locals. 34 out of 47 bands in this year's lineup are from Iceland. But this time, there's a band that's even more local. They are local locals. They are called Oni and they call Neskaupstaður their home town. Now basically that's already really cool and would be a legit reason to catch their performance. But apart from that, the guys do kick ass indeed with their heavily sludgy stoner doom metal. After Kyuss left town with their circus, Oni  are about to bring it back. Some friendly growls from time to time ensure the black element. Make sure you get one of those "buy five get six" beer passes and limber up your neck.
Kronika
Ok, to some degree you're right in accusing us of a certain stoner rock biased preview. Though we try to meet black and progressive demands too, we have another one for the heavy head nodders: a female rapper, a viking metal bass player, a sleaze rock drummer and a folk pop guitar player joined together in Kronika to do something like a mixture of Brain Police, HAM and Reykjavíkurdætur. That is just too tempting to not give it a try. They emerged just last year to crank out a very, very promising eight song debut record and already appeared on Icelandic television show Studio A, famous for having the who-is-who of Icelandic bands on the rise. We're curious!
That's it folks! We feel very confident that there's something to fit everyone's taste at this year's amazing lineup. We're counting the days now and are excited to meet old and make new friends at our favourite metal festival! Sjáumst!