Today is the day! Vök's first full album "Figure" is finally there.
Vök's history started with Margrét Rán (vocals/guitar/keyboard) and Andri Már (sax/synth) in early 2013 by competing at the "Battle of the Bands-esque" competition Músíktilraunir in Iceland, which they won (Previously winners were: Mammút, Of Monsters and Men, Samaris). Ólafur Alexander (guitar/bass) joined the duo in summer 2013 and Einar Stef (drums/percussion) completed the bunch in  2016. After their two EPs "Tension" (2013) and "Circles" (2015) and also signing a record deal with Nettwerk Records this Febuary, Vök is starting a new chapter.
With "Show me" and "Breaking Bones" we already got a little glimpse of what to expect of the new record. And what can I say? They didn't disappoint in the slightest.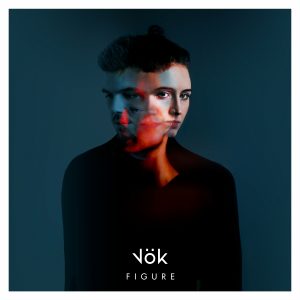 Vök's last EP was very "electronic and computer-based", so for "Figures" they wanted to take "the music out of the computer and into a more live and organic environment". But nontheless Vök present us with a brilliant electro-pop record once again. They got influenced by everything from The Weekend and Little Dragons to sci-fi cinema, which can be heard in songs like "Figure", the title track, or "Lightning Storm". Topics like feelings of anger, obsession, negligence, death, love, happiness and hope, but also personal experiences are playing a main role on this record. The song "Polar", which takes us into electronic-spheres, was written by Margrét after an argument with her Dad, with whom she normally gets along very well. "It's alright, it's okay. I'm gonna do, just what I want" she sings soothingly and refers to her being okay with being poor for the rest of her life as long as she can do what makes her happy. It's a very powerful song with great lyrics and counts as one of my favorites of this album. "Hiding" however starts very calm with only the sound of a piano. Eventually the singing begins gently with the line "It's so easy, not to try at all", but gradually the song gets faster and ends with a hopeful and encouraging message. With this"Figure" ends on a positive note and is a brilliant masterpiece of eletro-pop. One thing is certain: With this album, you'll have to look hard to find any flaws.
Watch the video for their track "Show Me" below:

Vök are on EU-Tour at the moment. You better don't miss them:

May 2nd Cologne, Germany – Artheater
May 3rd Gent, Belgium – DOK Box
May 4th Luxembourg, Luxembourg – Rotondes
May 5th Berlin, Germany – Badehaus Szimpla
May 6th Aarhus, Denmark – SPOT Festival
May 8th Katowice, Poland – Hipnoza
May 9th Poznan, Poland – Spot
May 10th Warsaw, Poland – NIEBO
May 11th Prague, Czech Republic – Palac Akropolis
May 12th Vienna, Austria – Fluc Café
May 14th Zurich, Switzerland – Mascotte
May 15th Paris, France – Le Point Ephémère
May 17th London, UK – Bush Hall
May 18th Salford, UK – The Eagle Inn
May 19th Bristol, UK – The Louisiana
Pictures © Sigga Ella