More or less back in all day routine which helps to overcome the pain of divorce. It's not an ultimate end though, but at least we have to live in a long-distance relationship for almost a year again: Airwaves '16 went down into history and slowly we realize how goddamn amazing it has been once more, this greatest music festival of them all! So until we turned one year older again, until we will be able to be embraced by our love and addict ourselves to the windy, dark and vibrant nights of Reykjavík again, we have to stand tall. But as wallowing in memories always gives you the blissful, distinctive feeling of euphoria and melancholia we want to recall our top Airwaves '16 moments!
Mugison at Frikirkjan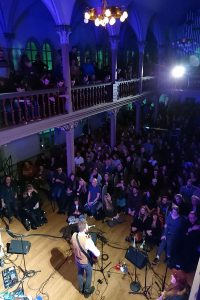 Örn Elías Guðmundsson alias Mugison from the West Fjords, son of a Karaoke singer, already deeply impressed me with his remarkable solo set at KEX off-venue back at Iceland Airwaves 2014, my first Airwaves festival. This time, it was not an insanely packed hostel lounge but an insanely packed church, the beautiful Frikirkjan down at Tjörnin lake. And Mugison wasn't on his own but brought his band. This band joined with Mugison's vast voice and stage presenceaus to turn the house of God into a house of rock'n'roll and the community present into a howling pack of headbanging evangelists. I wasn't able to see it from my spot but I would not have been surprised if even Jesus had joined the song "Þjóðarsálin" growling "Eg er blóð!" Mugison is an Icelandic music legend. The reason became clear to everyone in Frikirkjan this evening and therefore he is my indisputable first Airwaves '16 moment! // Philip
Ceasetone at Harpa (Norðurljós)
Leaving a show with a catchy tune in your ears is always a good sign. And it's even a better sign if you wake up next morning with the same song in your mind and it's still not annoying you! Just this happened after my first Ceasetone concert. The band was on my list of must-have-acts and they really did not disappoint me. I barely knew more than two songs when I saw them first at Harpa Norðurljós. There are bands I'm listening to. And there are others, whose CDs I'm buying and shows I'm attending. Ceasetone is definitely the latter and I really hope to see them on tour soon – I'm stoked! // Silja
Dr. Spock at Húrra
Pain in the neck for two days, a few bruises, a smelly, sweat-soaked shirt and consequently an inevitable late night shower have been the results of a 45min moshpit during the gig of punk rock icons of Dr. Spock. Thanks to Steffi who took care about my belongings when I jumped and got pushed into other peoples' bodies, I would most certainly have lost or crashed them. I was a little surprised about the few people wearing yellow rubber gloves, despite so much locals around. In fact I was probably the only one. But in the end, it does not play a major role which outfit you are wearing during self-destruction. Dr. Spock was the athletic challenge this year. ORGAN, DR. ORGAN!! // Philip
Prins Póló at Gamla Bió
Same amount of fun, slightly different style. Svavar Pétur Eysteinsson aka. Prins Póló is another iconic character in Iceland. He prooved it at Gamla Bió on Friday night. Maybe it has been the gig the people freaked out in the most beautiful and delightful way at this year's festival. Not just because of the preceding band on stage, Frankie Cosmos, which had a rather…let's say less emotional, quiet appeal. Assisted by Árni Rúnar Hlöðversson, very well known as the wizard of synthesizers at FM Belfast, Prins Póló maybe won't win The Voice of Iceland or make it for the first place at the best rock guitarist competition. But there are only very few artists kicking your ass with so much passion, commitment and joy! // Philip
Kött Gra Pjé at Hlemmur Square, off-venue
The winner takes it all! And our off-venue winner 2016 was definitely the king of Icelandic poetic rap, Atli Sigþórsson, who might be more familiar to you as Kött Gra Pje and from collaborations e.g. with Úlfur Úlfur ("Brennum allt"). There was A LOT of Icelandic hip hop in this year's line-up, not all of the recently popping-up artists being particularly innovative. I rather had the impression that several acts sound rather similar. But then there is Kött Gra Pje. Hard to believe that such a popular and acclaimed rapper still is only about to release his debut album soon. But guess what, we think this will blow your mind just as his brutally intense show at Hlemmur Suqare did. The best reason to learn Icelandic, finally! // Steffi
Teitur Magnusson and all the others at NASA on Wednesday
The award "biggest band and most enchanting" performances goes to our beloved friend Teitur Magnusson! I counted about 12 musicians on stage at NASA, but I'm bad at maths. It might also have been 11. Or 14. After all, people were entering and leaving the stage all the time. It felt like a huge, funny and musically extremely talented living community up there, playing every instrument on earth at last once. The heart-warming songs from Teitur's album "Tuttugu og sjö" put a smile on my face during the whole gig. I wanna see Teitur live each and every day until next year's festival! By the way, whole wednesday night at NASA was incredibly impressive, with Snorri Helgasson, Tilbury and Moses Hightower delivering jaw-dropping performances. Great, great scheduling by the festival organizers! // Philip
Berndsen with full band at Gamla Bió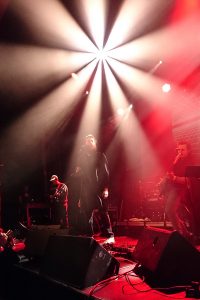 He is one of the musicians I would declare guilty for dragging me towards Icelandic music, making me an addict: Davið Berndsen, or The Berndsen, or simply Berndsen. I'm totally into 80s synthie pop, admittedly, and so he hits me right into the heart. And my legs. So far he did it with his congenial partner Sveinbjörn Thorarensen aka Hermigervill. But meanwhile, Berndsen gathered a full band around him and Gamla Bió on Friday night was their first stage appearance. It's something else compared to the legendary, driving sets with Hermigervill in the past of course, you could describe it as grown up. But the band is doing an amazing job! The new songs from his upcoming third album "Alter Ego" work perfectly with the organic live band style. Handmade 80s pop at its best. And Berndsen can still get rid of his shirt when he feels like it! // Philip
Kiriyama Family at Bió Paradís, off-venue
Another off-venue gig leaving us behind speechless but still shaking from our dance moves. Wow, I knew them before but haven't seen them live so far. Have I already mentioned that I love the 80s sound? Yes, I did. I love Kiriyama Family therefore. Those beats spread right down to your feet, the melodies make you close your eyes. The drumming was incredibly tight and creative. I was surprised the windows withstood the power of Hulda Kristín Kolbrúnardóttir's adorable voice. Second album is ahead of us, watch out for more coverage about this amazing band here. Kiriyama Family, we'll get in touch soon! 🙂 // Philip
The next generation of Icelandic musicians!
Early practise makes the master! Seems as if that's the credo of the Icelanders as they bring their children to all the different off-venue show. dj. Flúgvel og Geimskip's concert at the Alda Hotel was witnessed by a whole kindergarten group. After their supervisors had supplied them with earplugs, the children were ready or the show. Afterwards they surrounded Steinunn and told her how much they liked her performance. One of the girls eagerly wanted to buy a CD but unfortunately she had no money with her. At another off-venue show that afternoon, Úlfur Úlfur, I saw a pre-school girl in the front row, dancing like crazy and singing along each and every song. And also at off-venue gigs of Teitur Magnusson at Hertex and Dream Wife at Loft Hostel, almost hordes of children entered the front-of-stage-areas – though they had to leave Dream Wife before the last song because of "inappropriate" lyrics. The next generation of Icelandic musicians and music enthusiasts! // Silja
Kate Tempest at Gamla Bió
We're focusing on Icelandic music here at tónlist.de (and I've seen almost solely Icelandic acts this year), but my final words and highest reverence simply has to go out to Kate Tempest. I expected her to be my absolute highlight at Airwaves '16 cause I consider her new album "Let them eat chaos" as the best I've heard in years. But it turned out the be even better. Barely another artist ever mesmerized me this way. Spellbound by her presence, deeply toched by the lyrics, knocked over by her power, I simply had to scream in between to release the excitement. Above an incredible Airwaves, there is Kate Tempest. // Philip