You won't believe it, but finally we can talk about springtime. Sitting lakeside in the evening, shorts and t-shirt and a beer, what else? Maybe a fitting piece of music, fluffy and lightly? Well, we can help you out! And you can trust us, it's a recommendation you better take into account: exactly in a week today, the nowadays six-headed Kiriyama Family will release their second record "Waiting for…" and we've been lucky to take a glimpse at the album beforehand to tell you about its greatness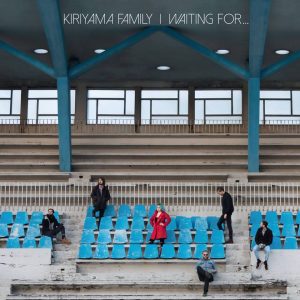 Most people here in Germany most likely never heard a single word about those guys – and very important: girl –
so far. Even if you should be a little more into Icelandic music. But back home in Iceland, they already caused quite a stir with their self-named debut back in 2012. The song "Weekends" made it to the top spots of the Icelandic airplays. And both their new singles "Innocence" and "Chemistry" achieved the same. But first things first.
Four years is a considerably long time in popular music between to releases. And in fact, there have been some major changes within Kiriyama Family in the meantime. Keyboarder Bjarni Ævar Árnason and vocalist Hulda Kristín Kolbrúnardottir joined the four core members Karl Bjarnarson (vocals, guitar, bass and keys), Guđmudur Jónsson (guitar, bass and keys), Viđir Björnsson (guitar, bass and keys) and Bassi Ólafsson (drums and percussion). Right during the making of the album, but early enough to put their mark on it to some degree and define the new Kiriyama Family style: an even more straight-ahead sparkling 80s synthie pop than on the predecessor, which somehow commuted between synthie-indietronic ("Sneaky Boots" or "Time out") but also pure indie rock ("the amazing "Portobello") without really deciding for one direction. Of course, you can't accuse Kiriyama Family of inconclusiveness cause they performed extremely well in both directions.
But now it's time for synthies and keys! And right ahead, the opener "About you" leads the way for the first half of the nine songs record. Foggy sounds swirl from the off to clear up for the first catchy melody, driven by damn groovy drums until Karl jumps in to sing about love and desire, just as the doctor orders: " "I wanna be the one / who sets fire to your heart". And like a spark in the dark, Huldas voice shows up for the first time, silently in the background and you receive a first impression of what's still to come. You don't have to wait for (attention, play of words!) a long time. "Light years away" has a similar start from the off like "About you", funky as hell thanks to Bassi's amazingly tight and rhythmic drumming. But then it's all Hulda Kristín Kolbrúnardottir's song and I promise you goosebumps. Her voice certainly is one of the most talented and impressive ones in Iceland. Silent and sensitive is as easy a task for her as sonorous and powerful. Next one, "Apart" slows down a little bit then, in fact break ups usually are not the most euphoric moments in life: "All I can say is that we're meant to be apart / And all I can do is hope that you don't catch my heart off guard". But then it's time for the first single and all that pain and grief is gone. "Innocence" is what you call the perfect pop song: catchy beat, great vocals, euphoric chorus and a finish that will make you burst from joy and Hulda's brilliant voice. There are a lot of heights on "Waiting for…" but "Innocence" might be the highest of them all, though the second single "Chemistry" immeadiately prompts the same feelings. "Push further" then rings the bell for a slightly different second part of the album, with songs less rhapsodical but more reflective dominating until the final track "Waiting for your love". Also the lyrics are more pondering and serious. "While you wait" even is a cheesy and monolithic instrumental 80s power ballad.
So despite their stronger focus on synthie sounds, Kiriyama Family still shows nice variation on "Waiting for…". Certainly, one of the main reasons is also the rotating lead vocal. Both, Hulda and Karl, are amazing singers without a doubt and both put their very personal stamp on. "Waiting for…" is infectiously catchy, especially during the first songs, but not a bit simple or trivial: the songwriting is way too funky and groovy during the first half as it is toughtful in the second part. And as a matter of course, all six are fantastic musicians who perfectly know how to play their instruments and together really develop "Chemistry" (another play of words, sorry). We can only hope for Hulda, Karl, Guđmudur, Viđir, Bassi and Bjarni to show up in Germany, too, to promote their amazing second album. We're "Waiting for…" (end of plays of words now, promised)!
The album will be released soon: 1st of June. Keep your eyes and ears open!